What you need to know about changes to auto insurance in Ontario
The Ontario government has introduced significant reforms to the auto insurance system in order to provide you, the consumer, more choice over the coverages and price you pay for insurance. 
These additional accident benefit choices will allow you to customize your policy to suit your needs.
The goal of these changes is to achieve rate stabilization by keeping the costs incurred by the insurance companies in check with emphasis placed on Accident Benefits coverage.
Without these reforms, major rate increases would be required.
Standard Auto Insurance Policy
In Ontario, the Insurance Act determines the standard coverage that consumers must purchase.  As a result of the reforms, some of the features under the Standard Auto Insurance Policy have changed.  
Since September 1, 2010, if you are either buying a new auto insurance policy or renewing an existing one, you have more options to purchase a level of coverage that is right for you.
All auto insurance policies will continue to include the following:
Ø                  Third-Party Liability
Ø                  Uninsured Auto coverage
Ø                  Direct Compensation-Property Damage
Ø                  Statutory Accident Benefits
In addition, if you previously purchased Collision and/or Comprehensive coverage, it will still be included in your policy.
After September 1, 2010, when you are buying a new policy or renewing an existing one, you have the following options with respect to Statutory Accident Benefits:*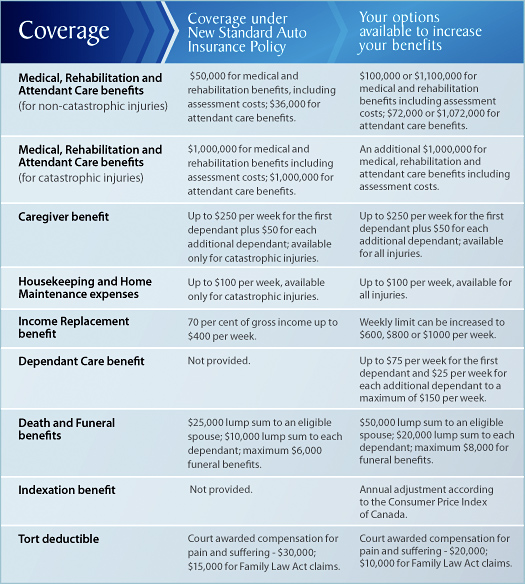 Ø    Direct Compensation – Property Damage Coverage – You have the option of a $500, $300 or no deductible at all on coverage to repair the auto of the driver who is not-at-fault.
What else is new?
The government's reforms lay the foundation for an auto insurance system with greater price stability, and more protection for you, theconsumer. 
Other key changes include:
Ø     Many injuries received in an auto accident are minor.  If you have a minor injury due to an auto accident, your medical and rehabilitation accident benefits are limited to $3,500 regardless of the coverage level you have selected.
Ø     Accidents where you are 25 per cent or less at-fault will no longer affect your premium.
Ø      The deductible that is applied to court awards for fatal accidents has been eliminated. 
Ø     A new requirement that insurance companies send out benefit statements to their claimants, advising how much has been paid to date, and the additional amounts remaining for medical, rehabilitation and attendant care benefits.
Ø     If your auto has been damaged or written off after an accident and you don't agree with the value you have been offered or your degree of fault for the accident, you can choose the appraisal process outlined in the Ontario Auto Policy to settle the dispute, and the insurer must agree to participate.
Ø    Coverage is extended to rented autos with a Gross Vehicle Weight Rating (GVWR) of more than 4,500 kilograms, if for personal use and rented for up to 7 days.
Ø      Prohibiting use of credit scores in giving quotations for your auto insurance rates.